Breskens Lighthouse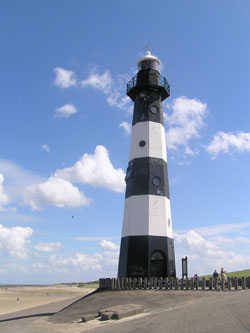 History
The lighthouse was designed by the dutch lighthouse archtect Q. Harder. He was responsable for a number of other Dutch lighthouses. The building started in 1866 and was finished a year later in 1867. Breskens is the oldest remaining cast-iron lighthouse in the Netherlands after the lighthouse of Renesse which was build in 1856 was broken down in 1915. During te Second World War the Breskens lighthouse was out of operation. After the War is came in operation again with a light in a red and green sector. Before the lighthouse was painted with black white stripes as it is today, it was yellow and later on it had red and white stripes. During the Second World War it was even painted in camouflage colours.
Description
The Lighthouse is situated on the Westerschelde in the Zeeuws Vlaanderen region (near Belgium) in the province of Zeeland. It is placed on the outside of the seadike between the towns of Nieuwesluis en Breskens. It is part of a range of light that mark the mouth of the river Schelde towards the Northsea. The tower is ocagonal shaped and made of cast-iron. The conacal shaped tower is 28,4 meter high and has five floors and has a cast-iron railing around the light. Striking are the half round window just above the entrance and the little round windows. The tower is painted with three black and two white bands. The top is painted white. The iron lighthouse has a copper dome in which the optics from Barbier, Bénard & Turenne are situated. The Lighthouse is not manned en operates automatically. The Lighthouse of Breskens is also known as Nieuwesluis light.

More pictures of Breskens Lighthouse »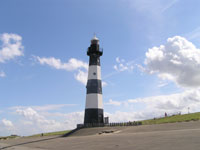 Data
Alternative name:
Nieuwesluis Light
Position:
Mouth of the Westerschelde in the region of Zeeuws Vlaanderen (province of Zeeland) on the outside of the dike between Nieuwesluis and Breskens.
Design:
Q. Harder.
Build:
1866-1867.
Reach of the light:
14 seamiles - 26 kilometer.
Current use:
In operation.

More Dutch Lighthouses »
Woonwebsite BV, Theo Jordaan (photo) copyright, 2006